Generic Name: Propyzamide
Product name: Kerb
Chemical name: 3,5-dichloro-N-(1,1-dimethylpropynyl)benzamide
Structural formula: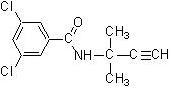 Physical and chemical properties:
Pure product is colorless crystalline solid; melting point 155~156℃; vapor pressure 11.3mPa (25℃): 15mg/l in water; easily soluble in many aliphatic and aromatic solvents. The purity of the original drug is 94~95%. Kow1234~1903±540. The melting point is the same as above.
toxicity
Acute oral LD50: male rat 8350mg/kg, female rat 5620mg/kg. Rabbit acute percutaneous LD50>3160mg/kg. The WP dosage form is slightly irritating to eyes and skin. Rat acute inhalation LC50>5.0mg/l. Subacute studies have shown no effect in dogs and rats at a dose of 300 mg/kg chow. The acute oral LD50 of Japanese quail was 8770mg/kg, and that of wild duck was more than 14mg/kg. Fish poison LC50: goldfish 350mg/l, rainbow trout 72mg/l, guppies 150mg/l, catfish 500mg/l. Application:
Selective herbicide for post-dental treatment. Controls many grass and broadleaf weeds such as wild oats, perennial sorghum, crabgrass, barnyardgrass, bluegrass, etc. in small-seeded legumes, lettuce, certain orchards, turf and some ornamental crops.
Technical grade: 98%
Preparations: various dosage forms.
Packaging: 25kg cardboard drum for the original drug, various packaging for preparations.
Appearance: off-white to white powder.
Safety Precautions:
Warning: Be careful!
Toxicity level: low toxicity
Protective equipment: long-sleeved shirt and trousers, protective gloves, shoes and socks.
Handling and Storage Precautions: Store in a dry and cool place, avoid direct sunlight. Store in original container. Lock container tightly when not in use. Stay away from food and drinks.
first-aid
Eyes: Wash with running water for at least 15 minutes. seek medical attention.
Skin: Carefully remove contaminated clothing and wash contact area with soap and water. Seek medical attention if necessary.
Ingestion: Rinse mouth with water. Relax the sick person and seek medical attention immediately.
Inhalation: Remove to fresh air and keep relaxed. seek medical attention.
Antidote: No antidote, treat symptomatically if needed.
Create a harmonious team, realize the dream of Jiahe, thank you for returning to the society, and share the joy of success.
The company has passed the ISO9001 quality management system certification, and follows the ISO14001 environmental management system and the advanced concept of safety standardization management. It constantly pursues the modernization of management and the high quality of products.
Add:
NO.10 Linjiang road, Linjiang Chemical Industry Park, Haimen, Jiangsu, China