Generic Name: Oxyfluorfen
Product Name: Gore
Chemical name: 2-Chloro-a, a, a-trifluoro-p-tolyl-3-ethoxy-4-nitrophenyl ether
Structural formula: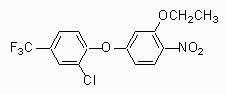 Physical and chemical properties:
The original drug is a light yellow solid with a melting point of 84.5-85.0 °C. Pure orange crystal, melting point 85~90℃, boiling point 358.2℃ (decomposition). The relative density is 1.37 (73°C). The vapor pressure is 0.0267mPa (25℃), and the distribution coefficient KowlogP=4.47 (25℃). Solubility in water: 0.116 mg/L (25°C). Solubility in other solvents (g/100g, 20℃): acetone 72.5, chloroform 50~55, cyclohexanone 61.5, dimethylformamide>50. Stability: >240 ℃ decomposition. pH5~9(25℃), no obvious hydrolysis in 28d.
Toxicity:
Rat acute oral LD50>5000mg/kg, rabbit acute percutaneous LD50>10000mg/kg. It is mildly irritating to rabbit skin and moderately irritating to rabbit eyes, but it disappears in a short time. Rats acutely inhaled air with LC50 (4h)>5.4mg/L. The no-effect dose for rats (2a) was 40 mg/kg feed, the no-effect dose for mice (2a) was 2 mg/kg feed, and the non-effect dose for dogs (2a) was 100 mg/kg feed. ADI value 0.0003mg/kg. No teratogenic, mutagenic or carcinogenic effects were found in animals within the test dose. No abnormality was seen in the three-generation reproduction test and the delayed neurotoxicity test. Low toxicity to birds, LD50>2150mg/kg of quail. Wild ducks and quails were fed with LC50(8d)>5000mg/L. Highly toxic to fish and some aquatic animals, LC50 (mg/L): 0.41 for rainbow trout and 0.2 for sunfish. High toxicity to grass shrimp, LC50 is 0.018mg/L, low toxicity to crab, LD50 is 320mg/L, low toxicity to bees, acute oral LC50 is 0.025mg/piece.
Application:
A contact herbicide that kills weeds in the presence of light. It mainly enters the plant through the coleoptile and mesocotyl, and is absorbed less by the roots, and a trace amount is transported upward through the roots and sent to the leaves. Pre-emergence and post-emergence application to control annual broadleaf weeds and grass weeds on various tropical and subtropical crops, especially fruit trees (including citrus), grapes, nuts, cereals, corn, soybeans, peanuts, rice, cotton, Bananas, mint, onions, garlic, ornamental trees and bushes, and pine seedbeds.
Technical grade: 98%, 97%, 96%
Formulation: 240 g/l EC
Packaging: 25kg cardboard drum for the original drug; preparations are available in various packaging.
Appearance: light yellow powder (original drug); light yellow transparent liquid (emulsion concentrate).
Precautions:
Warning: Be careful!
Toxicity level: low toxicity
Protective equipment: long-sleeved shirt and trousers, protective gloves, shoes and socks.
Handling and Storage Precautions: Store in a dry and cool place, avoid direct sunlight. Store in original container. Lock container tightly when not in use. Stay away from food and drinks.
first-aid:
Eyes: Wash with running water for at least 15 minutes, seek medical attention.
Skin: Carefully remove contaminated clothing and wash contact area with soap and water. Seek medical attention if necessary.
Ingestion: Rinse mouth with water. Relax the sick person and seek medical attention immediately.
Inhalation: Remove to fresh air and keep relaxed. seek medical attention.
Antidote: No antidote, if needed, treat according to symptoms.
Create a harmonious team, realize the dream of Jiahe, thank you for returning to the society, and share the joy of success.
The company has passed the ISO9001 quality management system certification, and follows the ISO14001 environmental management system and the advanced concept of safety standardization management. It constantly pursues the modernization of management and the high quality of products.
Add:
NO.10 Linjiang road, Linjiang Chemical Industry Park, Haimen, Jiangsu, China