Generic Name: Diflufenican
Molecular formula: C16H11F5N2O2
Molecular weight: 394.3
Chemical name: 2'4'-dichloro-2-(α,α,α,-trichlorofluoro-m-phenoxy)-3-pyridineanilide
Structural formula: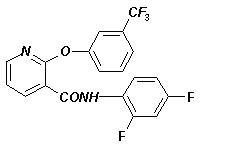 Physical and chemical properties:
Colorless crystalline solid, melting point 161~162℃. Solubility in water 0.05 mg/L, acetone, dimethylformamide 100 g/L, acetophenone, cycloethyl ketone 50 g/L, cyclohexane, 2-ethoxyethanol, kerosene less than 10 g/L, 3 , 5,5-trimethylcyclohex-2-enone 35 g/L, xylene 20 g/L.
Toxicity:
This product is a low toxicity herbicide. The acute oral LD50 in rats is >2000 mg/kg, and the acute transdermal LD50 in rats is >2000 mg/kg.
Application:
This product is a carotenoid biosynthesis inhibitor and a broad-spectrum selective wheat field herbicide. Controls grass and broadleaf weeds, especially swine, porcupine and violet weeds. In winter wheat fields, diflufenacil has a wide herbicidal spectrum and a long application period, which can control various weeds in wheat fields. It can be applied pre-emergence and early post-emergence of winter wheat.
Technical grade: 98%,
Preparation: 500 g/l SC
Packaging: 25kg cardboard drum for the original drug, various packaging for preparations.
Appearance: off-white to Baise powder (original drug); off-white suspension (suspension)
Safety Precautions:
Warning: Be careful!
Toxicity level: low toxicity
Protective equipment: long-sleeved shirt and trousers, protective gloves, shoes and socks.
Handling and Storage Precautions: Store in a dry and cool place, avoid direct sunlight. Store in original container. Lock container tightly when not in use. Stay away from food and drinks.
first-aid:
Eyes: Wash with running water for at least 15 minutes, seek medical attention.
Skin: Carefully remove contaminated clothing and wash contact area with soap and water. Seek medical attention if necessary.
Ingestion: Rinse mouth with water. Relax the sick person and seek medical attention immediately.
Inhalation: Remove to fresh air, keep relaxed and seek medical attention.
Antidote: No antidote, if needed, treat according to symptoms.
Create a harmonious team, realize the dream of Jiahe, thank you for returning to the society, and share the joy of success.
The company has passed the ISO9001 quality management system certification, and follows the ISO14001 environmental management system and the advanced concept of safety standardization management. It constantly pursues the modernization of management and the high quality of products.
Add:
NO.10 Linjiang road, Linjiang Chemical Industry Park, Haimen, Jiangsu, China